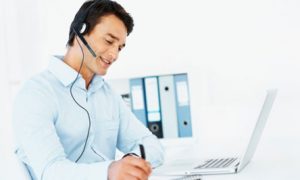 Business communications in the modern day are constantly evolving. It used to only be voice calls back in the day. Businesses now communicate internally and externally daily via calls, texting, email, mobile apps, chat, and video conferencing.
Not only do customers' and employees' behavior alter as a result of the growth of communications, but it also modifies the necessary hardware and software. VoIP, or voice-over-internet protocol, can help with that. With the use of VoIP phones, organizations can replace obsolete, traditional telephones with an all-online communication network.
It's likely that you have already used several VoIP-powered applications today. Google Hangouts, Skype, WhatsApp, Zoom, and Facebook Messenger are a few examples.
VoIP is revolutionizing the communications industry. It's an innovative technology that the future is embracing due to its simple setup, low cost, and increased capability. Below, we will go into detail on VoIP, explaining what it is and how it works.
What Is VoIP?
VoIP—which stands for Voice Over Internet Protocol—is a technology that enables voice calls to be placed and received over the internet. Callers used the Public Switched Telephone Network, or what we commonly refer to as landlines, to communicate in the past. Instead, VoIP sends voice communications across a packet-switched network, like the internet or local area networks, using data packets.
A device, a stable internet connection, a microphone, and VoIP is all you need to make these calls. No analog cables, circuit transmission, or traditional phones are required. VoIP allows you to communicate with new or existing technology by using cell phones, portable devices, and even computers with headset microphones to connect callers.
VoIP can link you to team members and clients with cheaper expenses and greater functionality, whether you are scaling a help desk or growing your business into new offices.
How Does VoIP Work?
Simply put, VoIP phones work by making and receiving calls over the internet as opposed to traditional telephones. In more specific terms, here is how VoIP works:
A designated IP address allows your VoIP-capable device to connect to the internet.
When you dial a number, your VoIP service establishes the connection. It sends and receives data packets over a packet-switched network using media delivery protocols like Session Initiation Protocol (SIP).
The data packets are transformed into audible sounds by your VoIP phone.
Should You Use VoIP?
Although VoIP phone systems have several advantages over traditional landline systems, still, not everyone should use them. Before setting up a VoIP communications system for your company, go through the following advantages and disadvantages:
Advantages of VoIP phones
Call Routing
No matter where you have connected your physical network, you can easily route your calls to a VoIP phone. As long as you have a good internet connection, you can use this to accept calls from anywhere in the world.
Virtual Numbers
VoIP numbers are portable because they are virtual and can be used anywhere. That implies that you maintain the same number wherever you are.
Low Costs
You can switch to VoIP and save a lot of money on your phone bill as VoIP doesn't require investments. Thanks to this, you can quickly scale up or down in response to demand.
High Quality
Thanks to the development of the internet, it is now simple and easy to find a high-quality connection. This results in crystal-clear calls with no discernible lag, delay, or dropouts. VoIP can, however, turn into a con if your connection is poor.
Privacy
VoIP technology can reduce security and privacy issues by improving identity management and encryption.
So, VoIP has several advantages, but don't get excited. VoIP has a few drawbacks that you need to be aware of.
Disadvantages Of VoIP
Internet Connection Dependency
VoIP is quality-dependent and is only reliable when you have a good internet connection. Even though VoIP doesn't need a lot of bandwidth, lag-free conversations nevertheless require a low latency network.
Power Dependency
Your VoIP phones won't function if you lose power and don't have a backup plan. However, landlines rely on power transmitted through the landline from the power companies, not the local electricity, to make calls. In the event of a major power outage, these companies generally have backup generators, allowing you to continue dialing calls.
Conclusion
It's not difficult to understand why consumers and organizations alike are switching from outdated landline technology to wireless and VoIP-enabled phones. Businesses using this technology now will benefit from all the VoIP benefits we discussed and be well-positioned for success in the future.