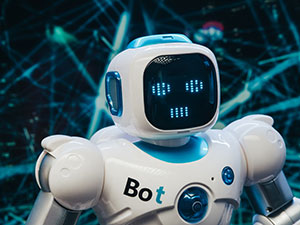 Unless you've been dwelling under a rock, you've probably heard that artificial intelligence is booming right now. AI is altering how small business IT work, from robot hotel butlers to virtual customer service agents (called chatbot) that accept your food order through social networking sites. Artificial intelligence, or at the very least knowledge-based techniques, has been available for quite some time. Whatever your motive for exploring AI, it can revolutionize your company. All it takes to get started is an open mind and a willingness to welcome new possibilities wherever and whenever they arise. Here are some incredible ways you can utilize AI to better run your business.
1. MARKETING:
SMBs typically use spreadsheets to collect and consolidate consumer data. Running advertising campaigns and handling leads by manually managing these spreadsheets may be a tedious activity that depletes significant resources. However, by automating the work with AI technologies, small Milwaukee IT companies may be able to increase the efficiency and value of their marketing campaigns.
For example, connecting the CRM with AI makes choosing the proper target audience groups with the highest return on investment easier. Similarly, quarterly and yearly sales projections; and monthly or weekly sales lead estimates, might become considerably more precise, allowing management to better allocate marketing and sales resources.
2. CUSTOMER CARE SERVICES:
The majority of inquiries from prospects and consumers are straightforward, commonly asked questions. However, even insignificant calls may add to the call volume managed by a small company's contact center. As a result, there may be a scarcity of resources when dealing with crucial situations, which can lead to a negative customer experience.
SMBs, on the other hand, may detect the sort of inquiry coming in through IVRs and divert the less complex issues to chatbots by using AI technologies and virtual agents. Issues that are sophisticated or require the knowledge of experienced service people, on the other hand, can be addressed appropriately. Furthermore, machine learning techniques may be utilized to estimate the time and duration with the highest and lowest call volumes to better allocate Milwaukee IT company resources.
3. GENERATING AND HANDLING LEADS:
Through social networking sites, artificial intelligence may be utilized to nurture and capture fresh leads. Prospects' social networking behavior may be tracked using AI algorithms. Personalized material may be delivered to them at a certain time to guarantee they don't miss out on fresh offers and discounts. Following the acquisition of their information via easy forms, the new leads may be followed up on by giving appropriate comparisons with competitor services, which will eventually convert them into clients. Constant involvement can also generate additional chances for upselling and cross-selling.
AI algorithms may also be utilized by small business IT companies to construct precise buyer personas with greater precision. Using these personas, distinctive product features may be utilized to create tailored content that may inspire leads to respond positively. Analytical technologies with machine learning skills may be used to find the best channels for sharing content.
4. STREAMLINE HUMAN RESOURCE PROCESSES:
AI solutions may also assist small business IT companies in streamlining their employment procedures and making better hiring decisions. HR directors may use these technologies to not only scan resumes and forms for keywords but also to evaluate applicant replies and profile information for cultural fit and relevant experience. Chatbots can assist in accelerating the interview process by asking candidates a series of job-related questions, allowing HR practitioners to focus on more strategic HR concerns. Internally, chatbots may be used to answer commonly requested inquiries or as virtual assistants to help organize meetings and manage schedules.
5. MAXIMISING PROFITABILITY:
AI may be extremely useful in analyzing massive amounts of data and extracting important information from it. These operations might demand a significant amount of resources if conducted manually, increasing the cost for the small firm and lowering the ROI. AI can be a huge success in the micro business context, where even a tiny decline in profits might be fatal. The technology would not only aid in cutting down the total cost of the procedure but may also add extra functionality to it. Furthermore, AI can enable companies to shift important resources to more vital duties such as innovation and improvement, which can assist SMBs in optimizing their development and profitability.
FINAL THOUGHTS: 
AI has the potential to significantly assist small enterprises. The fact that artificial intelligence is now accessible as a service by Milwaukee IT companies has allowed smaller businesses to profit from it. With this transformation, artificial intelligence (AI) becomes a reality for more businesses since they no longer need to establish their competencies or infrastructure to profit from AI. Firms do not even need to utilize their data; instead, they may leverage data acquired by companies such as Microsoft, Facebook, and Google and transform it into insight. They do not need to customize their own AI, making artificial intelligence accessible to the majority of enterprises.