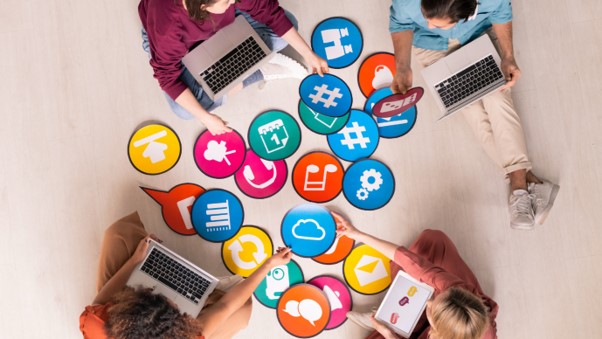 We are living in an exciting age of a fast and unprecedented AI boom. Even though artificial intelligence has been under development for a long time, businesses have only recently started adopting AI-based solutions at a large scale.
In a survey, 74% of respondents reported over a 5% increase in revenue after using AI technologies in their marketing and sales departments alone. The new advancements in the field are further opening new opportunities that businesses can use to establish a name in the age of cutthroat competition and market saturation. In this article, we discuss some of the most popular artificial intelligence tools and how they can help small businesses grow:
Jasper
Jasper is one of the leading AI writing assistants. Launched only recently in 2021, Jasper already has over 105,000 active customers using it to create original and appealing high-quality content. Big companies like Logitech, Harper Collins, and Zillow are just a few of the many leading names using Jasper to produce better content and enhance productivity.
The software can generate over 1500 words in less than 15 minutes. It has over 50 templates, which include blog posts, emails, ad copies, and more. Small businesses are often unable to hire a large team of writers, and Jasper offers a pocket-friendly solution for that. Apart from generating content, it also helps improve your human-written content in terms of grammar and tone. This ultimately helps target and attract more customers, thus exponentially increasing your sales.
HubSpot
HubSpot is a tool that automates marketing. Marketing entails everything from content creation to ad copies and social media management. Typically, there is a dedicated team for all these tasks. However, HubSpot bypasses the need to hire a large team of experts by curating and managing a competitive targeted marketing campaign.
The software stores and analyzes data related to customer preferences, which ensures high conversion rates. Note that even if you don't entirely rely on HubSpot for marketing, these results can still provide valuable insight into the latest trends.
Google Analytics
Google Analytics is another excellent tool widely used by small businesses. In this day and age, establishing a good online presence is paramount for a business's success. Google ranks different websites based on their quality which is gauged through a set of rules.
Search Engine Optimization or SEO involves optimizing your website content, design, loading time, etc., to help the bank top ranks on the search engine result page (SERP). This directly influences the number of clicks your website gets, which ultimately decides conversion rates.
Companies use Google Analytics for marketing and SEO. The software carries out a thorough analysis of the available related websites to check what works best for your target audience. As a small business, you need these statistics to increase customer engagement and get ahead in the game.
HitPaw Photo Enhancer
Visuals and design on your website, social media posts, and ad campaigns have a crucial role in attracting and establishing a loyal customer base. From photo quality to its size, placement of design elements, color, and contrast, a lot of factors play into this.
HitPaw Photo Enhancer is an AI tool that can help your images. You can easily enhance the color of your pictures, making them life-like with just one click. Furthermore, the software is also capable of enlarging images without compromising their quality. In the case of black and white images, you can use the photo enhancer to add any colors to the landscape. All-in-all, HitPaw Photo Enhancer is one of the trending AI tools in the market, and as a small business, you should try it out.
Lovo.ai
Lovo.ai is a voice generator and text-to-speech platform. Creative video marketing is one of the most effective tools for customer engagement. Moreover, a lot of small businesses are primarily centered around creating videos on YouTube and similar platforms.
Hiring voiceover actors that match whose style and accent match your brand is both time-consuming and costly. Tools like Lovo.ai are cost-efficient solutions to the problem. Recently, Lovo.ai has also launched another voice generator called Genny, which allows simultaneous text-to-speech generation and video editing. It has a large library of 500 AI voices in more than 20 emotions that you can use to create content in over 150 languages.
Conclusion
With a saturated market in almost all industries, it might be difficult for small businesses to establish a brand for themselves. Using AI tools can help companies get ahead of others with minimum labor costs and high productivity. PC Lan is a trusted advisor that can consult, implement, and support your practice or business to help your organization become a thought leader in your specific industry.  Schedule a meeting with Us Now.